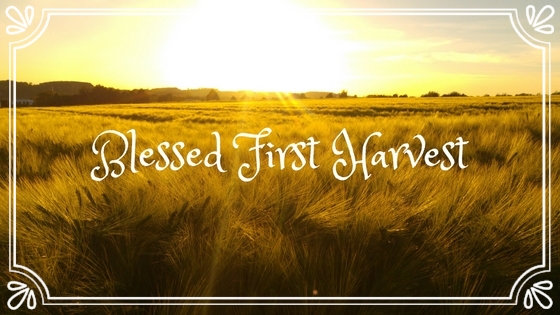 I just can't believe how fast this year has just flown by that we're already arrived at the first harvest of the year. But here we are at Lammas or Lughnasadh as the festival is also called and look at the result of our labours. Did we choose the right seeds? Did we nurture them enough with all of our strength? Was it worth it? And even if it was a failure, what did we learn from it?
I love gardening, in my case gardening in small spaces which means getting the most out of a small balcony. But you would be amazed at what's possible even in the smallest of spaces. My little balcony is home to a tomato plantation and all the plants that grow there I've nursed from seed to fruit. I never know with how many plants I'm ending up with when I put the seeds into the soil, but for some reason I was always quite lucky to have an abundant number of tomato plants that either find their home with me or I love to give them to friends and family.
It is a very rewarding experience to witness the stages of growing your own food and it is sheer bliss when it's finally time to harvest the first fruits and taste them. It never gets old to me. And isn't it the same with projects and life plans in general?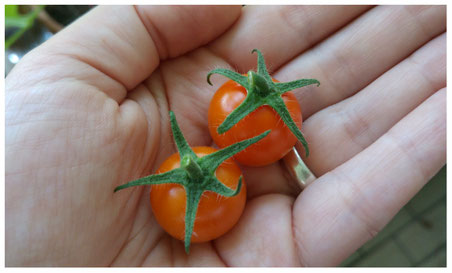 Maybe it started as a tiny idea months ago and you started to lay the ground for it. Then you tended it with all your good intentions, nurtured it with enthusiasm and all your heart's love. You were able to see the first shoots and it encouraged you to continue, but there were eventually also times when you've felt that what you've planted didn't grow as strong and fast as you've wanted it to do. 
I've been there myself, both in my life as a gardening witch and as the creatrix of something that hopefully becomes much more than just a tiny thought in my head. But it has evolved; it grew, even though there were seemingly no progress sometimes. It simply resulted in one simple realization: All that grows natural takes its time.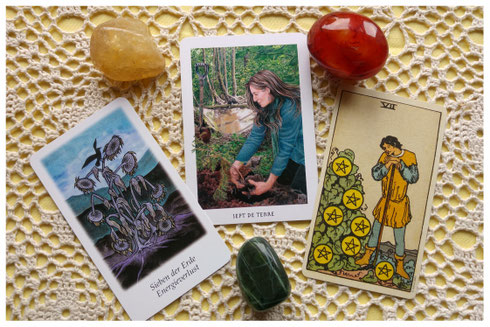 The end of that process is portrayed in the tarot card Seven of Pentacles. I chose three different ways of depicting that theme. In the Gaian Tarot by Joanna Powell Colbert a woman is about to plant a tiny cedar tree. She will probably never see that tree fully grown, but she lays the foundation for the future so that those who come after her have the possibility to marvel at the magnificence of a cedar tree. On the left side the Seven of Earth in the Vision Quest Tarot by Gayan S. Winter and Jo Dosé shows that this process sometimes can consume all of our energy and leaves us drained. This is the time, when we have to let go of what hasn't worked out, question our goals, learn from our mistakes and make a fresh start.
I finally feel like the content looking gardener in the Smith-Waite Centennial card. I'm now able to look at my first crop with a feeling of satisfaction. I know there is still a lot of work ahead of me, cause creative work like gardening or like in my case bringing a website into being means constant commitment. But for now I can lean on my hoe and be thankful for the first fruits of my labour. Amd oh my, do they taste sweet.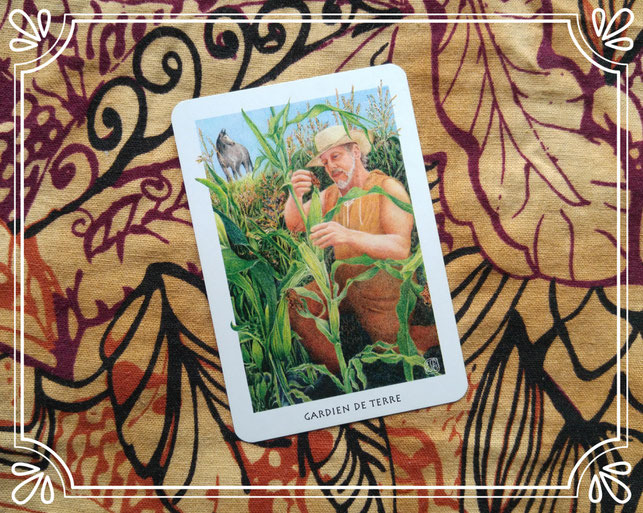 ---
Let me know what you've brought to fruition on this first harvest? Do you feel contented or drained? Did your plans work out or do you have to go back to the drawing board and what can you learn from it?